Journey With Us on the Earthways Shamanic Path!

 
© 2016 to present, Whale Maiden for Earthways Shamanic Path
This was the photo for the Earthways Shamanic Path Gathering, 2016.

 
---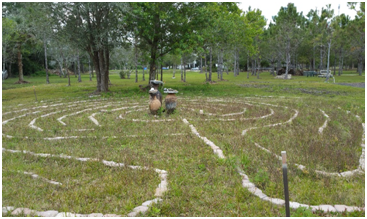 Labyrinth at the UUCFM by Whale Maiden


Our first annual Earthways Shamanic Path Gathering was held April 15-17, 2016 at the Unitarian Universalist Church of Fort Myers, Florida.

The theme was, "Find the Magic in Your Land."

"Find the Magic in your land" … The Earthways Shamanic Path is an Earth- based spiritual path.  It is based in Southwest Florida, yet can be practiced all around the world.  We ask you to discover, "What are the Seasons where you live?  How do you celebrate them?"

The Earthways Shamanic Path is based upon core shamanism.  Our philosophy is that people are drawn to Shamanism, if they are meant to learn more about it. Each person is responsible for learning what they need to, for their personal growth.  In this Shamanic practice, we learn to achieve altered states of reality through meditation, drumming and dancing, as well as through exploring nature, for greater self-awareness and to "Share Your Peace With Our Earth."  

This is our first Gathering, meant to foster a sense of community of like-minded travelers on paths which converge at this Gathering.  It is intended for educational, spiritual, and, networking purposes.  We will all learn from each other.  Thus, we will offer you a certificate showing you've attended this Gathering, but we won't be making anyone a shaman here.  

Many people Journeyed with us, for a magical, shamanic weekend.  The doorway opened at  3:00 PM Friday, April 15.  A couple of people chose to camp out at the beautiful campus of the Unitarian Universalist Church of Fort Myers.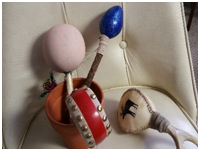 On Friday, the "Make your own Rattle" class was very popular, as were the vendors.  We had an opening reception, an opening ceremony, then a wonderfully prepared vegetarian dinner.  After dinner, we had a drum circle around the fire.  People brought their newly made rattles and drums.
 
Saturday morning, April 16th we were up with the sunrise.  Some people enjoyed yoga, then a continental breakfast on the Screened porch.  Then, we went to the Labyrinth for tones and centering.  There was time to wander around the Holton Eco-preserve, then choose from the morning classes.  (See "SESSIONS" below).  After the morning classes, we enjoyed lunch, and the keynote presentation on the Earthways Shamanic Path followed by a group Shamanic Journey at the Medicine Wheel.  After a break, the SESSIONS continued.  Later, we had another break and time for visiting the vendors, and then, dinner.  After dinner, we had a Shamanic drum circle around the fire, with dancing, and rattles and drums.
Sunday, April 17, we were up with the sun, enjoying yoga and continental breakfast on the Screened Porch.  We mingled, and then meet all the presenters together in an unexpected and beautiful closing journey.   We visited the vendors, and helped them all get packed up, then we had a lunch and the close out.  Sunday was unexpectedly beautiful; we co-created a sense of community of like-minded travelers on paths which converge at this Gathering.  Our Gathering concluded at 2 PM, Sunday.
 

2016 Earthways Shamanic Path Gathering SESSION DESCRIPTIONS

• Shamanic  journeying for personal growth and healing.  (Therese Krasnovsky, Ph.D - Collective Spirit Call, LLC )  will discuss, from the perspective of a psychotherapist, how Shamanic journeying can facilitate one's own healing and growth. The bulk of time will be experiential and will involve journeying, journaling, and discussion. Have in mind a psychological issue or obstacle you want to work on, something you would be willing to discuss at a very general level. Prior Journey experience is a plus. Participants will be asked to bring with them: blindfold, pen and journal/paper. Please note: Although this is expected to be a therapeutic or insightful experience for participants, it is not psychotherapy.

• Hollow Bones:  Shamanic Songs and Chants.  (Genai Ellen Wachs) "Hollow bones" in some spiritual traditions have been used as an ancient mystical image for letting Nature play through us as a conduit, channel, or a divine instrument for magic. Genai's "Hollow Bones" interactive concert-workshop-meditation weaves a mixed media tapestry of stories, songs, flower essences, guided meditation, and prayer. Genai invites you to receive healing, renewal and empowerment from the Great Mystery. And you are prepared to discover your body as a shamanic musical instrument in Part II. Bring an open mind and heart.  For more information about Genai, visit:  www.AllOnePeace.com

• A  Shaman's Journey to the Territory of the Dead.  (Cathy Cornish, Life Tribute Professional).   Cathy will speak for a few minutes about death and dying and today's death denial beliefs. Following that, Cathy will talk about the Shaman journey itself, starting with preparation, intentions and the journey itself.  Cathy will try to dispel some of the common myths about dying and to impart the respect for the dead.

• Making Your Shamanic Tools:  Leather Pouches - (Mathew)  There are several functions for a traditional medicine bag - both spiritual as well as physical. This presentation will focus on the physical making, sewing and decorating of your medicine bag. There will be some reflection on the physicality of the item however as the metaphysical aspects vary with certain traditions, those aspects will be left to the individual makers. How you prepare your ritual components and tokens and other items that you add to the bag, are purely up to you. Feel free to bring any items you think are suitable as well as any means of decorating that you would like. * This class has a $5 materials charge for the pouch itself.

• Shamanic Dancing with Totem Animals  (Lauren Purcell)    In this movement class you will learn about how your everyday movements effect the vibrations of the earth and how they effect you.  It's about learning to move, think, feel the earth the way animals do, to maintain harmonic balance. We will be going over several different movement styles such as Tai chi, Wyoma, Belly dance, Native American tribal dance, and whatever you feel is right. This will give you guidance to seek a particular dance of your totem.  Anyone and everyone can do this.  You will become an essence of and be your totem, we dance with them, assume a character of them. Fly with the birds, run with the deer, swim with the dolphin. I encourage all to come, feel the winds of change, the seas of serenity, fires of creation, and the strength of the earth. All with powerful movements of your own body which connect to your totem, bringing you closer to its particular wisdom. Becoming one with your totem, you are that totem and with it all in its realm of being. I encourage chanting, singing, clapping, stomping, shout if you need. Our ancient ones used dance to connect with higher powers, for life changing events. We have become disconnected in this modern world, dancing with our totems brings us back into harmonious ways of being with the great creator. Join me in this exploration.

• Shamanic journeying for personal growth and Collective Connection.  (Therese Krasnovsky, Ph.D - Collective Spirit Call, LLC, with Whale Maiden, Earthways Shamanic Path)   Participants will view and experience their role as relating to the Collective Psyche via Shamanic Journeys. First, as partner, will journey with/for another. Then as member of group, will journey for understanding of your special message or role for this group. Finally, we will journey and work collectively to create a Spirit Collage...a symbol that will serve to honor the Interconnection between ourselves, Earth, and Spirit across times and realities. Supplies needed: drum/rattle, blindfold, pen and journal/paper.  Presenters will supply collage materials and tools.    
• Hollow Bones: Your Body Is A Shamanic Instrument. (Genai Ellen Wachs) - Genai offers initiation to receive your own sacred healing song from Great Mystery. Participants will learn easy, fun and powerful take-home practices to open up your body, your energy centers and voice. Genai then guides you in a gentle process of listening, hearing and singing your own spirit song from the inner planes. We will close with a Peace Choir in which everyone sings their individual true song in peaceful harmony with all. Bring an open mind and heart. (Part I is not required for Part II, though it is recommended.)

• Playing Footsees  - Exploring the benefits of earthing, of walking barefooted  (Angela Melton) Did you know that something as simple as walking outside barefoot could have profound effects on your total well-being? We will explore the benefits of earthing including physical, mental and spiritual health, development of the senses, influences on the brain, and improvements in posture and vision. We have been misled into believing that shoes are necessary for good foot health and to avoid injury, when, in fact, they are doing way more harm than good. We will learn a barefoot walking technique which will empower you and your feet on the path.

• Talk with your Totems -- Shamanic Journaling.  (Lauren Purcell)  Meditation is a tool to bring us within our being, there are many forms and ways to bring  insights. With writing and drawing, we learn to stop, relax and listen, we let go of the outer world surrounding us. Meditative writing was used by Edgar Cayce when traveling the worlds with great prophecy. We will go on a Shamanic journey through the door, using simple meditation techniques to contact our guides and totems. You will be shown how to ask and receive helpful insights for your continued search of your truth. We will use our hands to draw, write, discern in the voice and feel of our totems.  You will learn to write while in meditation, it is a personal experience, no two people will be the same or hear the same or write the same, it is a personal insight for one who walks between the worlds.   We all can do this, in this class, you will learn how.